Character Biographies
Volume 1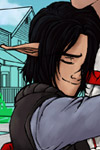 Leander (lēandər)
Age: 17
Height: 6'4" (193.04cm)
Weight: 172lbs (78.0179kg)

Leander grew up in Nagdecht, raised by his father. He loves to dream big and hopes to be a famous adventurer like his idol, Tevias.
After his father was deployed he decided to try and find the Wind Queen's flute to bring recognition to his family and maybe even earn a noble name that he and his father could both use.
He's energetic and immature, but he has a good heart and hates to see anyone hurt. He tends to be spontaneous and rarely thinks far into the future.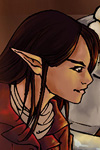 Ellora (elōrô)
Age: 19
Height: 6'5" (195.6cm)
Weight: 195lbs (88.4505kg)

Ellora is a singer at the Wind Queen's theater. Even though she's the newest performer and hasn't had an opportunity to go on stage yet she still throws her weight around.
Raised by criminal parents, Ellora is familiar with the black market and knows many of the people there personally. She doesn't want to be arrested for petty crimes, though. She wants to score big-time loot which was the original reason she joined the theater.
However, she fell in love with the theater and befriended one of the dancers, deciding to stay there even after she knew the Wind Queen's flute wasn't there.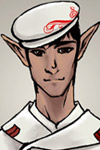 Lorough (lôrō)
Age: 38
Height: 6'9" (205.74cm)
Weight: 260lbs (117.934kg)

Lorough is Leander's father. He's a warm-hearted man who works hard and follows the rules. He had Leander when he was young and had his hands full trying to raise Leander alone but they're very close.
Shortly before the beginning of the story he was deployed to protect the border from their neighboring country, Geuran. He believes all Geuranians are dangerous and will do anything to protect his son and his country.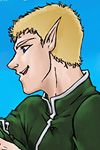 Deckard (dekərd)
Age: 22
Height: 6'7" (200.66cm)
Weight: 237lbs (107.501kg)

Deckard is a Geuranian soldier. He's lazy and disobedient. He's often disclipined because of his carefree attitude but the punishments don't leave a lasting impact.
Deckard is unhappy that he was stationed near the Nagdecht border because if a war starts he'll be placed on the front lines. He wanted to be stationed on the Rhodaren border where little was happening.
Although he tends to irritate authority figures quickly, he's laidback and easy to get along with.



Volume 2



Leander (lēandər)
Age: 18
Height: 6'5" (195.6cm)
Weight: 179lbs (81.193kg)

An impetuous treasure hunter, Leander is tired of collecting trinkets and wants to find something with real historical value. He jumps at the chance to find royal jewelry that had been stolen.
A year after finding the flute, Leander is at the brink of being considered an adult in his country. He bounces back and forth between wanting recognition and being glad that he isn't yet expected to take on adult responsibilities.
He isn't a fighter and tends to run from violence - unless someone else is in danger.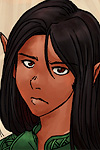 Ellora (elōrô)
Age: 20
Height: 6'5" (195.6cm)
Weight: 195lbs (88.4505kg)

Having established herself as a powerful singer and fearless actor, Ellora's career at Queen Lambrian's Theater has taken off. She's quickly gaining a fanbase and reveling in her fame.
She's also enjoying a lucrative side business selling goods on the black market. Her fame in the black market for finding unusual goods is rising along with her fame as a singer. She enjoys both sides of her life, balancing between the two.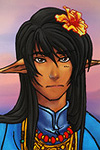 Valli (væli)
Age: 23
Height: 6'6" (197.5cm)
Weight: 197lbs (89.3577kg)

Valli is a dancer at Queen Lambrian's Theater. He's worked at the theater for a few years and lives in the room next to Ellora. He befriended Ellora when she first joined the theater and has stayed her friend.
He's a passive, friendly man who likes to avoid confrontation. He knows Ellora came from a family of criminals and is concerned that Leander might be a criminal.
He originally agrees to travel north with Leander in order to get surgery, but he's also frightened of surgery.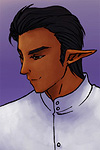 Lorough (lôrō)
Age: 39
Height: 6'9" (205.74cm)
Weight: 260lbs (117.934kg)

Leander's father and a dedicated soldier, Lorough is a constant in Leander's life. He's calls him daily and tries to encourage him to do well in school in order to graduate.
Lorough holds strict Naggian views, believing the best in their country. As Leander is getting older he's finding that they have different opinions about Geuran and the fighting between their countries, and he's trying his best to correct them without alienating his son.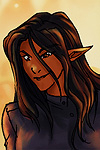 Signe the Scraper (sɪgni)
Age: 17
Height: 6'4" (193cm)
Weight: 201lbs (91.1721kg)

Signe is the daughter of a recently deceased crime lord. She's ruthless and sees people as a commodity. After her mother's death she has decided to take over her counterfeiting ring and plans to expand it. However, because of her age people are hesitant to follow her over her mother's right hand man.
She has no intention of allowing him to take over the crime ring, though, and the blood of gang members and innocents alike is readily being spilled because of their vicious struggle for control.


"Axe" (æks)
Age: 25
Height: 7'1" (215.9cm)
Weight: 380lbs (172.365kg)

Axe works as a hitman for Signe. She's known for her size, being both tall and muscular as well as wearing heavy armor, and she was given the nickname "Axe" for the battle axe she prefers to use in fights. She's reticent, prejudiced against the other gang members she works with and rarely befriends anyone. Iona is the only other member she has taken a liking to, and she joined Signe's side of the fight under her recommendation.
Axe focuses her attention on doing her job and taking care of her younger sister, Kelsy. She's good with her hands and created and mends her armor herself.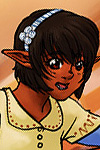 Kelsy (kɛlsi)
Age: 8
Height: 4'2" (127cm)
Weight: 58lbs (26.3084kg)

Kelsy is Axe's younger sister. She's cheerful but lonely, spending most of her time by herself. She thinks highly of her big sister although they don't have much in common.
Kelsy enjoys sewing and working on crafting projects, and spends most of her time trying to help out the gang by making what they want.
She's small for her age but she works hard.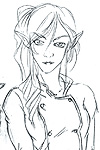 Iona (aɪoʊnɔ)
Age: 32
Height: 6'5" (195.6cm)
Weight: 200lbs (90.7185kg)

Iona has been part of the counterfeiting ring for two years, working as a competent marksman, driver and informant. She impressed Axe early on with her skill and confidence with a gun, and ended up befriending her. She has a bright personality and enjoys making light of situations and joking around, but she's also intelligent and knows how to manipulate situations.
When the gang divided she chose to follow Signe and convinced Axe to do the same, giving Signe a large boost in how much influence she had. She also found and brought the coronation necklace to Signe, earning her a favorable spot in Signe's eyes.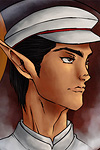 General Glaive Melechtion (gleɪv mɛlɛkʃən)
Age: 27
Height: 7'0" (213.4cm)
Weight: 350lbs (158.757kg)

One of the two generals of Nagdecht, General Glaive Melechtion was adopted as a toddler and raised by the castle in order to work as King Lakorian's General. Millions of rumors about him describe him as cold, calculating and even sadistic.
After King Lariat's death he was promoted to general, and shortly after he formed his own private military unit.
He travels north in order to deal with the abundant gang activity.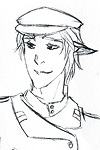 Dorrius Melechtion (doʊriʌs mɛlɛkʃən)
Age: 32
Height: 6'10" (208.3cm)
Weight: 240lbs (108.862kg)

Dorrius was one of the first three men General Glaive chose as part of his elite unit. He has worked at the castle for a long time and has worked with General Glaive since the general was a teenager.
He specializes in psychology and has worked as a therapist for soldiers, including Tetchion. He's patient and his ability to lead, mediate and maintain the relationships of his fellow soldiers as well as his age have earned him recognition as General Glaive's number one soldier, even though he, Tetchion and Quinn were all hired at the same time.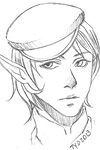 Tetchion Melechtion (tɛtʃiɔn mɛlɛkʃən)
Age: 25
Height: 6'9" (205.7cm)
Weight: 225lbs (102.058kg)

Tetchion is considered the second soldier of General Glaive's elite unit. He's the quietest of the group and a follower, but was included in General Glaive's unit at the recommendation of Dorrius for his loyalty and perseverance.
He has a long history with Dorrius as a patient and still turns to him when he has problems. As a quiet follower, he's tends to be overlooked and forgotten compared to the others.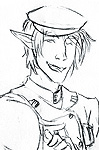 Quinn Melechtion (kwɪn mɛlɛkʃən)
Age: 25
Height: 6'8" (203.2cm)
Weight: 213lbs (96.6152kg)

Quinn is the third soldier in General Glaive's elite unit. He was hired with Dorrius and Tetchion when Glaive was promoted to general. He's a jokester and enjoys making the others laugh, being the most outgoing of the group. Although he likes to play around, General Glaive found him to be trustworthy and skilled.
He enjoys botany and grows plants in his spare time.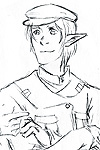 Giddeon Melechtion (gɪdiən mɛlɛkʃən)
Age: 24
Height: 6'10" (208.3cm)
Weight: 227lbs (102.965kg)

Calm and friendly, Giddeon was the first person to pass General Glaive's interview and be added to his initial three picks for his elite unit. He's more talkative when he's one-on-one with someone, and generally enjoys Quinn's company.
He paints during his spare time. Before joining Glaive's men he tended to be impatient, painting quickly rather than methodically. After joining, he's learned to take his time and be more detail-oriented, patiently sketching, measuring, adjusting and painting.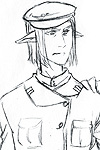 Tyrus Melechtion (taɪrʌs mɛlɛkʃən)
Age: 21
Height: 6'6" (198.1cm)
Weight: 202lbs (91.6257kg)

Tyrus is the fifth and most recent addition to Glaive's men. Being the newest he hasn't acclimated to the group yet, and he feels out of place as the shortest, weakest and the one with the lowest scores. He believes a mistake has been made and is worried about what will happen when he fails the general.
Dorrius has taken him under his wing but he is having trouble fitting in. He's in the process of deciding where he fits in and what life will be like. He is, however, a talented sharpshooter and has no qualms doing his job.



Volume 3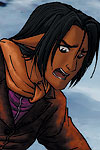 Leander (lēandər)
Age: 19
Height: 6'6" (198.1cm)
Weight: 175lbs (79kg)

Having just reached adulthood, Leander still isn't certain about his life. He tries to balance his treasure hunting career with casual every day living, keeping his dad in the dark about what he does. With no bills his life has become comfortable but boring, and he's anxious to get out and have some adventure.
In the time since he went to find the coronation necklace he's become good friends with Valli, visitng him often and exchanging gifts. He's also become re-acquainted with an old family friend, and while he's happy he still hasn't figured out his future.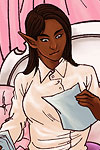 Ellora (elōrô)
Age: 20
Height: 6'5" (195.6cm)
Weight: 195lbs (88.4505kg)

Since joining the theater she's made quite a name for herself, becoming famous for her singing skills and performances. The fact that she's popular with nobles and famous people has given her a reputation on the black market, too, where people are amused by the fact that people who would normally have her arrested are some of her biggest fans. She relishes the attention and never seems to get enough, playing both sides constantly to get even more of a reputation.
Despite being wealthy, she's always finding new missions for Leander, though she doesn't care about adventure as much and coins. She has a sharp tongue and is quick to lash out at others, but she has a soft spot for Valli.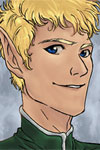 Deckard (dekərd)
Age: 24
Height: 6'7" (200.66cm)
Weight: 237lbs (107.501kg)

After meeting Leander the first time, Deckard seems to have cleaned up his act. He's followed orders and hasn't gotten in trouble. Much.
Though he hasn't been getting in as much trouble, he's still unhappy with his life, wishing there was somewhere else he could go. He secretly hopes to see Leander again so that maybe something new will happen.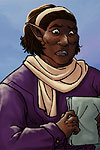 Breigah (brāgȯ)
Age: 63
Height: 6'8" (203.2cm)
Weight: 312lbs (141.521kg)

A retired farmer, Breigah has worked hard in Rhodaren her entire life. She lives in the warmer part of Rhodaren, closer to the Geuranian border, but has rarely seen much trouble in her life. She has a comfortable home, and though he husband has passed away she has many workers around who tend to the farm and watch out for her.
It's only when something horrible happens that she decides she has to take action and delve into the darker parts of the country.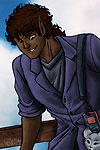 Delmar (delmär)
Age: 23
Height: 6'9" (205.74cm)
Weight: 341lbs (154.675kg)

A young man who likes to travel, Delmar spends his time doing odd jobs around the country in order to finance his sightseeing. He has a small lympet that he carries around in a bag named Feenie, and he takes her everywhere he goes. He also owns his own truck and drives often, and has become skilled at navigating snowy paths.
At a glance Delmar seems like a simple man who enjoys singing and isn't very responsible, but he has certain things that he cares for very much.